Fiberon® introduces Horizon® Symmetry™ Collection Decking. Four distinct colors, Cinnabar, Burnt Umber, Warm Sienna, and Graphite were inspired by natural minerals and earth pigments. The full palette has earned rave reviews: homeowners prefer these new shades over other leading deck boards.
Beautifully Balanced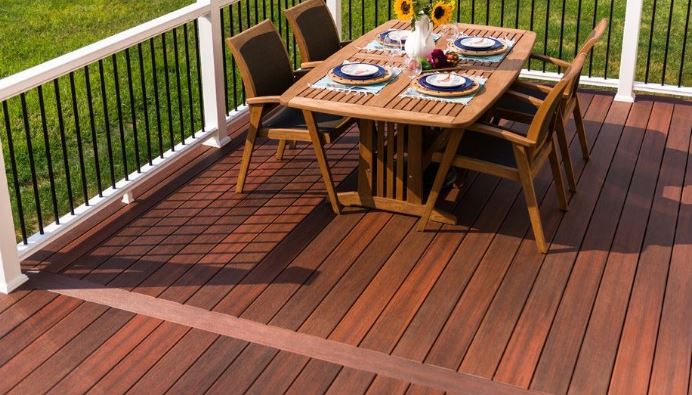 Horizon Symmetry Decking features a low-gloss formulation and unique micro-texturing for a beautiful matte finish and subtle, fluid grain patterns on top and bottom. Four-sided, patent-pending PermaTech® surface protection provides unbeatable resistance to fading, staining, insects, and decay.
Horizon Symmetry is the ideal wood alternative for applications that show both sides of the board, such as a privacy screen, or as a top surface for deck railings. Grooved and square-edge profiles are offered, as well as matching fascia and riser boards.
Symmetry Decking Features
Low-gloss formulation and micro-texturing produce an on-trend matte finish
Rich, multi-toned colors and unique wood grain patterns enhance visual appeal
Four-sided capping with PermaTech creates a durable, reversible board
Available in four high-demand colors: Warm Sienna, Cinnabar, Burnt Umber, and Graphite
Environmentally-friendly content (recycled wood and plastic polymers) reduces landfill waste
Matching fascia and riser boards are available
Pairs perfectly with Symmetry Railing to create an elegant outdoor space
Symmetry Decking Dimensions
Board Profile Dimensions: Flat bottom .935 in. x 5.4 in.
Square Edge Board Lengths: 20 ft. (12 ft. and 16 ft. lengths available by special order only)
Grooved Edge Board Lengths: 12 ft., 16 ft., and 20 ft.
Fascia Dimensions: .75 in. x 11.25 in. x 12 ft.
Riser Dimensions: .75 in. x 7.25 in. x 12 ft.