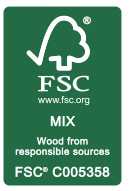 FSC Certified
Biewer lumber has proudly been granted a FSC® Chain of Custody Certification by the Scientific Certification Systems SCS – Certificate Code: SCS-COC-002709. The SCS is accredited by the FSC to certify companies to their international standards. Biewer Lumber is now able to provide FSC-certified products.
Forest Stewardship Council® (FSC) is a non-profit organization devoted to encouraging the responsible management of the world's forests. FSC sets high standards that ensure forestry is practiced in an environmentally responsible, socially beneficial, and economically viable way.
Environmental stewardship is at the heart of the Biewer Lumber business. The approach, which we call "From Forest to Framework"™, encourages healthy forests and reduces processing waste. Our focus is to maximize the growth potential of timber stands as well as maintain healthy, vigorous forests.
Biewer Lumber™ continues to practice efforts that enforce our deep commitment to preserve and protect the Midwest's valuable forest resources.
For more information about the FSC – certified products available at
Biewer Lumber, please call 800.482.5717.