EcoStone Fence uses a polyethylene plastic and a patented design of rotationally-molded manufacturing resulting in realistic stone appearance and superior performance. EcoStone is also reinforced with galvanized steel into every post and every panel for added security. Add value to your home with solid privacy, security, durability, and ease of install.
Beauty and Durability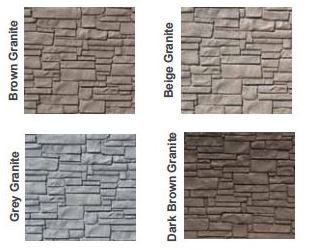 Ecostone Fence systems are available in four color options: Brown Granite, Beige Granite, Grey Granite, and Dark Brown Granite. SimTek decorative rock walls offer elegance, privacy and security for your yard. It provides a secluded place for you and your family to spend time together in the place that matters the most; your home.

Ecostone Features
Made with proprietary Linear Low Density Polyethylene (LLDPE) blend and is reinforced with galvanized steel in every post and every panel
Withstands constant hurricane force winds up to 110 mph and 130 mph gusts. Certified to meet Miami-Dade county wind loads
Blocks 98% of direct sound with a sound transmission class (STC) rating of 26
Contains UV12 inhibitors for a lifetime of vibrant colors. Xeon-Arc chamber tested in an accelerated environment with minimal to no fade
Very stable in temperature extremes. Withstands tests at -40° to 140° F
Contains UV12 inhibitors for a lifetime of vibrant colors. Xeon-Arc chamber tested in an accelerated environment with minimal to no fade
Easy Installation: One of the most user-friendly fences on the market
Never needs painting or staining; nor will it warp, fade or crack
Easily remove graffiti using a high-powered pressure washer
Ecostone Dimensions
Panels come in 3'H x 6'W, 6'H x 6'W, and 4'H x 8'W
All panels contain high-grade galvanized steel in both top and bottom rails
Panel heights cannot be modified; however, panels can be cut to any custom width
Our panels have been engineered to allow stacking to create 8ft and 12' high walls
Posts come in 8.5' and 12' heights and have a five-inch outer diameter
All posts contain full-length internal molded steel stiffeners for optimum strength
Posts are made from 50% recycled polyethylene plastic
For 12'H, we supply metal I-beams with matching plastic posts sleeves
Product GuideInstallationWarranty
"Biewer separates themselves from other vendors in the market because of their consistency, product quality,
delivery, and ease of doing business." – Craig N., ProBuild