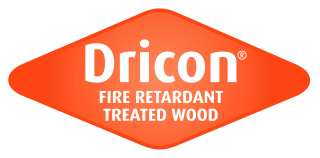 Dricon FRTW meets Class A requirements for flame spread and greatly reduces smoke development and also includes a 40 year limited roof system warranty which covers repair and replacement and is transferable. In addition Dricon FRTW is EPA registered as a preservative, can be used in contact with concrete that contacts the ground and is backed by a 40 year limited preservative warranty. Biewer FRTW combines the flexibility and environmental advantages of wood with reliable fire protection.
Does Your FRT Wood Carry a Stamp You Can Trust?
For more information on Dricon visit www.firetreatedwood.com.
For more than 25 years builders and homeowners have chosen Biewer Dricon® fire retardant treated (FRT) wood for its proven effectiveness in both slowing the spread of flames and reducing smoke in the unfortunate event of a fire.
Code Compliant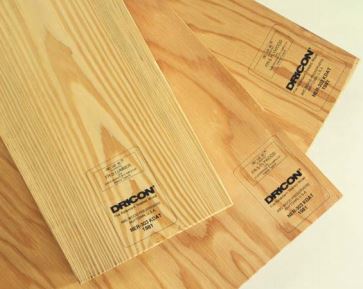 Combining the flexibility, warmth and environmental advantages of wood with the protection and security of flame resistance, Dricon FRT wood is an economical choice for framing, roofs and other interior applications in both commercial and residential buildings.
Biewer Lumber's Code Compliant Dricon FRT wood is chemically treated to react to fire by creating its own protective char shell, which preserves its structural integrity and ultimately lessens potential damage.
Dricon Features
Authentic Code Compliant FRT product
Backed by a 40-year builder's limited warranty in roof systems; covers materials and labor
Also available: 40-year limited warranty against termites and fungal decay, and 10-year limited warranty for truss builders
EPA-registered resistance to termites and fungal decay in above ground, weather-protected applications
Conforms to current American Wood Protection Association (AWPA) standards
Produced by independent licensees of Arch Wood Protection, which follow enforced quality control standards
MIL-L-19140E QPL listed
Factory Mutual listed
Distinctive dye added for easy product identifications
"Biewer has brought us a great FRTW product along with great service" – Jimmy, Nexgen