Available in 3 styles and several colors, this PVC porch flooring offers products to meet the needs of your next porch project. Aeratis knows that your front porch isn't just an extension of your house, it's an extension of you.
Aeratis is designed and engineered to be the perfect product for new construction and restoration/remodeling. New home buyers and remodelers want to reduce their maintenance, while individuals looking to restore an 1800's Victorian want to paint the porch the same color it was the day it was built. Aeratis is the answer to both installations.
Aeratis Heritage….
Aeratis Heritage is a true double-sided board that comes in three pre-finished colors: Battleship Gray, Weathered Wood and Redwood. Heritage, like all the other Aeratis products, can be painted any color by following the steps for Traditions paint instructions.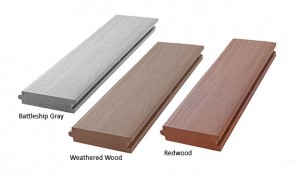 The Heritage line of products is ADA slip complaint and carries a Class B fire rating (more flame resistant than any other competitor's product). This double-sided board offers a finished ceiling look from the underside of a porch floor that is visible from underneath.
Aeratis Classic…..
Aeratis Classic Porch Flooring is a solid extruded PVC tongue & groove porch plank proven to out-perform wood, polypropylene, polyethylene and open-cell PVC products.
Its unsurpassed durability coupled with a historic profile, fortifies your porch floor against nature's adverse effects.   Aeratis Classic meets all requirements for WUI (Wildland Urban Interface) and is ADA slip compliant, both wet and dry.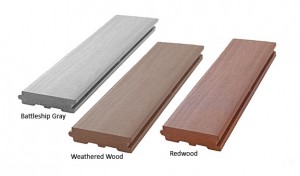 Aeratis Classic comes in three pre-finished colors, with subtle, natural color variations to mimic the richness and color depth of wood.  It is designed to look like an unpainted, finished wood floor.  The three colors available are Weathered Wood, Redwood, and Battleship Gray.
Aeratis Traditions…..
Aeratis Traditions is an uncolored, paint-ready board that is designed specifically for those who want the look of a traditional painted porch. Traditions boards can be painted or stained in any color.  Unlike the Classic or Heritage line which can also be painted, Traditions flooring and fascia require paint or stain to maintain their warranty, but the best part is the paint is FREE!  When painted, Aeratis Traditions maintains a 5-A paint adhesion, the strongest paint adhesion in the industry (no priming needed).  This means that you can enjoy the same low maintenance porch that matches the look and feel of your home in a color that's right for you, with a 20-year warranty.  Most Traditions porches will only need to be repainted in high traffic areas every 7 to 10 years. Keep in mind that painting Traditions is not like painting wood. When painted wood gets wet, the bond between the wood and the paint is broken.  The paints supplied by Aeratis, create a chemical bond to the surface of the flooring.  Aeratis Traditions will provide you with the color you want without the maintenance of wood.
The Traditions line also has uncolored, paint-ready fascia and beaded ceiling board. For trim pieces, we recommend using any color of our standard trim pieces. Everything we make is 100% paintable. The difference between Aeratis Traditions, Aeratis Classic and Heritage is simply, the Traditions line does not have our color package. This reduces the cost of manufacturing so we pass this savings on to you.
Support Material:
Care and Maintenance
Installation Instructions
Aeratis Warranty
Paint & Stain Instructions
Traditions Paint Rebate Form
For more information, visit www.aeratis.com